Teaching - History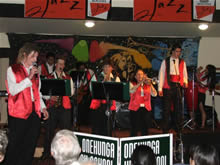 Recommendations
Edwina Thorne has been a member of our itinerant music staff for a number of years.

Her expertise is with wind instruments but her most noteworthy work at Onehunga High School has been as Director of our Jazz Band.

Edwina is an exceptional teacher. She is enthusiastic, a talented performer herself and has a level of commitment well beyond that one would expect from an itinerant teacher.

Our Senior Jazz Band under her skilful direction has become the flagship performing arts group in our school. Their reputation extends far beyond our school and for many years they have been standout performers at such events as the Bay of Islands Jazz Festival.

Edwina's dedication to music at this school has been exceptional. Hours of work are irrelevant, as her appearance at many after hours events would demonstrate. Edwina is well connected in the music world. She has used her contacts to the advantage of our student and on many occasions they have had the privilege of performing with outstanding and well reputed musicians.

It has been a great pleasure to witness the growth and development of our young jazz musicians into top quality performers who have a promising future in music.
Cheap Hublot Replica
Edwina brings life and vitality to music. The whole school has benefited and has experienced much pleasure and enjoyment as a result.
C R Saunders
Principal
Onehunga High School